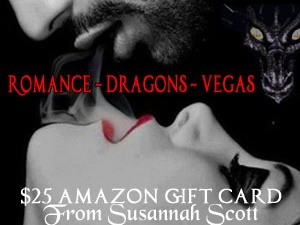 Guest Blog & Giveaway: Susannah Scott on Belonging & win an Amazon gift card
Eligibility:
Contest does not seem to have any geographical restrictions (may be subject to
ome's ability to receive and use Amazon gift cards in one's locale
).
Ends:
27 May 2014
Prize(s):
$25 Amazon Gift Card
Entry method:
Rafflecopter form + follow instructions.
Contest Link:
Click here
to go to the contest.
Stop Dragon My Heart Around by Susannah Scott
Book 2 of the
Las Vegas Dragons
series
Genre:
urban fantasy
About Stop Dragon My Heart Around:
Lucky Leprechaun underwear ironed? Check.

Gold plated hearing aids? Check.

Pink doggy booties, times four? Check.

Tee is Vegas's favorite casino hostess, ready to grant her high rollers their every quirky wish. But when her own wish to financially help her Paiute Tribe finally comes true, she decides to double-down with lady luck and go for a hot hook-up with her sexy boss, Leo. Unfortunately, Tees about to find out why their romance is such a long shot—Leo is a shape-shifting dragon.

Leo needs a proper dragon mate to save his waning dragon form, and despite their magnetic sexual attraction, he knows Tee is anything but proper—or a dragon. But when threats arise from Tee's tribe, Leos protective instincts kick in. Can he give up his dragon form for the woman he loves—even if it means shortening his life? Or has Tee finally had enough of having her heart dragged around?
Source:
Info in the
About Stop Dragon My Heart Around
was from GoodReads at https://www.goodreads.com/book/show/21854392-stop-dragon-my-heart-around on 05/05/2014.
Buy Link(s):